Four Lessons That the Democratic Party Should Learn From The Georgia Senate Runoffs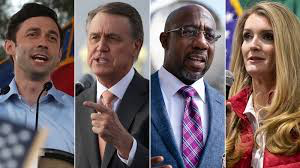 On January 6th, what was once thought to be impossible was accomplished in the midst of national chaos and upheaval: Georgia elected Democrats Jon Ossoff and Raphael Warnock to the Senate, handing the Democrats a 51-50 majority (including Vice President Kamala Harris, the tiebreaker) over the Senate Republicans and ousting Mitch Mcconnell (R-KY) from his Majority Leader position. Due to the inherently racist general election majority rules in Georgia, both Ossoff and Warnock advanced to a runoff against Republicans David Perdue and Kelly Loeffler, respectively; one day after the runoff elections on the 5th, both candidates on the Democratic ticket emerged victorious. At first glance, the fact that a young Jewish documentarian and a Black Baptist pastor were elected in a cherry-red state is both gratifying for non-Republicans and worthy of praise. However, now that the dust has settled and the celebrations have simmered down, it's time for the Democrats to take stock of what they learned from Ossoff and Warnock's victories. Without further ado, here are four lessons that the Democratic Party should heed if they want to experience electoral success in the coming years.
These four lessons may not guarantee Democratic dominance immediately, but it's undeniable that relying on grassroots movements, pairing compatible candidates, "fixing" their failed nominees, and promoting opinionated politicians will certainly put them on the path to political success.