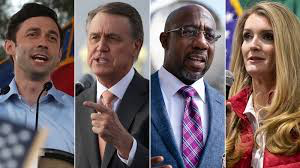 On January 6th, what was once thought to be impossible was accomplished in the midst of national chaos and upheaval: Georgia elected Democrats Jon Ossoff and Raphael Warnock to the Senate, handing the Democrats a 51-50 majority (including Vice President Kamala Harris, the tiebreaker) over the Senate Republicans and ousting Mitch Mcconnell (R-KY) from his Majority Leader position. Due to the inherently racist general election majority rules in Georgia, both Ossoff and Warnock advanced to a runoff against Republicans David Perdue and Kelly Loeffler, respectively; one day after the runoff elections on the 5th, both candidates on the Democratic ticket emerged victorious. At first glance, the fact that a young Jewish documentarian and a Black Baptist pastor were elected in a cherry-red state is both gratifying for non-Republicans and worthy of praise. However, now that the dust has settled and the celebrations have simmered down, it's time for the Democrats to take stock of what they learned from Ossoff and Warnock's victories. Without further ado, here are four lessons that the Democratic Party should heed if they want to experience electoral success in the coming years.
Grassroots, Grassroots, Grassroots!
Out-of-state donors are always useful, but the only way to win elections is to do the groundwork.
Many people call Stacey Abrams a visionary. Others call her a superhero. In fact, there are even a select few who elevate her to demi-deity levels. However, after her successful campaigning for Warnock and Ossoff, it's clear that above all, she is one of the few Democrats who understands that the only way to flip states is to reach out directly to voters.
After losing the Georgian gubernatorial election (due to alleged voter fraud and underhanded tactics by her opponent, then-Georgia Secretary of State Brian Kemp), Abrams founded Fair Fight, an organization dedicated to combating voter suppression in the state. While Fair Fight partly relied on national Democratic donors, its impact was mostly statewide; by visiting key "blue" regions of Georgia and mobilizing primarily Black voters, she was able to snatch victory from the jaws of deep red defeat by helping President Joe Biden in his 2020 election.
A Democatic version of Georgia (affectionately titled "Blorgia" in some liberal circles) initially seemed like a fluke, but Abrams proved that the state's transformation was more than a flash in the pan by repeating the feat. When it was announced that Ossoff and Warnock were forced into runoff elections, she encouraged even more marginalized voters to make their voices heard. Luckily for the Democrats, her extra work paid off; voter turnout in the Georgia runoffs "reached 93 percent of [the amount of voters in the 2020 election] in precincts where Black voters represented at least 80 percent of the electorate" (New York Times). As a result, despite potential threats of suppression and inequity, Ossoff and Warnock swamped Perdue and Loeffler in primarily Black counties like DeKalb, Cobb, and Fulton, giving them enough votes to secure their seats.
Overall, it's quite clear that reaching out to marginalized voters directly can turn the tide of elections. If the Democrats hope to compete in deep red states like Texas, Alabama, and Florida, they must do the groundwork and ensure that minority voters can have a fair chance at participating in democracy.
The Good Cop/Bad Cop Strategy works.
Even though twin Senate races like these are very rare, Democrats can still prepare for them by understanding the different yet symbiotic approaches that Ossoff and Warnock had.
There were arguably two defining moments of the Georgia runoff elections.
The first moment took place in November during what was probably one of the cutest campaign ads of all time. In his commercial, Warnock warned Georgians that "the negative attack ads [from Loeffler were] coming" to ruin his reputation. He also parodied the ridiculousness of the claims that would soon be leveled against him, such as his insistence on eating pizza with a knife and fork, his hatred of puppies, and his committal of an unforgivable sin: stepping on a crack in the sidewalk.
In reality, most of the allegations against Warnock came during the latter half of the election. But his ad (and overall campaign strategy) paid off: despite Loeffler and the GOP digging up months-old dirt, the people of Georgia were already convinced that Warnock was a good man (and puppy lover) who would put their needs first. That's the reason why the ad's image of him cuddling with a puppy is so powerful: it represents how Warnock refused to stoop to his detractors' level.
Despite the fact that Warnock survived the negative publicity, he needed a way to hit back at both Perdue and Loeffler without ruining his "nice guy" image and being painted as a (harmful and untrue) stereotype of an angry, belligerent black man by the GOP. In order to do this, someone else needed to step up and attack the two Republicans at every opportunity.
Enter Jon Ossoff.
If Ossoff made any major missteps during his campaign, it certainly wasn't that he pulled his punches. He launched blistering attack after blistering attack on Loeffler and Perdue's records as Senators, and challenged the latter (his official opponent) to three extra debates. Only one debate ended up taking place, but Perdue chose to skip it and was represented by an empty podium. While it's possible that Perdue made a mistake in not showing up, one can understand why he wouldn't want to engage Ossoff by watching the other defining moment of the Georgia runoffs (that occurred during their only head-to-head encounter in October).
If Warnock made Georgia voters respect him and Ossoff, Ossoff made them fear Perdue and Loeffler. In other words, they approached the election like it was a Good Cop/Bad Cop interrogation. Through it all, they never turned on each other or publicly warred; when given the opportunity to renounce Warnock in the face of the accusations leveled against him, Ossoff made his stance clear.
Of course, Senate elections are staggered, meaning that twin races are exceedingly rare. However, there is a lesson to be had in these elections for Democrats who feel that they must isolate themselves from the pack during elections. Even if it requires both candidates to step outside of their comfort zone, yin-and-yang-esque joint campaigning is a good strategy for both Senate and House elections, especially if it's executed as flawlessly as it was in Georgia.
Failing upwards can work…if the candidate evolves!
Jon Ossoff's only prior governmental experience was a narrow loss in the House race for Georgia's Sixth Congressional District. If failed Democratic candidates want to aim bigger and win like him, they must learn from their prior mistakes.
During the dawn of Trump's reign in January 2017, what was supposed to be a mundane House fight started to attract quite a bit of attention – and money. Representative (and GOP member) Karen Handel of Georgia's 6th Congressional District (a Republican stronghold) was in the middle of a surprisingly heated election to retain her seat against Democrat Jon Ossoff, a 30-year-old documentarian and former intern for the late John Lewis. Despite Ossoff pulling ahead in the general election by almost 30 points (since the Republican vote was divided between Handel and independent candidates), neither candidate reached the 50% threshold, meaning that the race would be decided by a runoff. Many out-of-state Democrats were invested in the runoff election due to the symbolism of Ossoff's potential victory. If he emerged as the winner, it would represent an important (albeit very small) rebuke of the Trump administration, who threw their support behind Handel. Eventually, their hopes of revenge were dashed, since Handel beat Ossoff 51.87% to 48.13% in the January runoffs.
The race was an absolute gut-punch for Democrats. The New York Times called it "demoralizing," and the chance to land a tiny blow to Trump was lost. Ossoff became both a punching bag and a meme.
Democrats were quick to blame him for the loss. "He was a neoliberal shill." "He was awkward." "He was an empty suit." "He refused to take any concrete stances on important issues." "He wasted SO MUCH MONEY to end up losing." One could certainly argue that Ossoff's campaign made mistakes in the lead-up to the election, from his refusal to align himself with the national Democratic party as a whole to the fact that he temporarily moved out of the 6th District due to familial obligations. He was made to look like even more of a fool when Democrat Lucy McBath easily swept the district in 2018 with a third of the money by taking a hardline stance on gun laws, a tangible issue with which voters can connect. Consequently, when Ossoff announced his candidacy for the Senate, the Democratic response was a collective eye-roll. "He'll probably just narrowly lose again."
However, against all odds, Ossoff emerged in his Senate race as a completely new candidate.
Plenty of aspects about a person can change in three years. Someone's character, morals, and habits can even change in the blink of an eye. But Ossoff's transformation was nothing short of extraordinary. He turned into twice the politician he was in his House race in a mere three years by simply being unafraid to attack his opponents, share his stances on hot-button issues, and engage with the general public. Comparing his character and political positions in 2017 and 2020 highlights just how much he's changed. The 2017 version of Ossoff doesn't take Perdue to task for his failures. The 2017 version of Ossoff doesn't refer to himself as a "John Lewis Democrat." The 2017 version of Ossoff doesn't defend Warnock against his critics. And the 2017 version of Ossoff certainly doesn't post "Legalize It" memes.
It's only fitting that he narrowly lost one of the first elections under Trump and narrowly won the very last (and in doing so, traded two years in the House for six years in the Senate). In his unexpected victory, he seems to have become the epitome of failing upwards.
What Democrats need to realize is that Ossoff's triumph doesn't exist in a vacuum. It might seem contradictory, but if they want to create more successful candidates, they can simply encourage their failed ones to improve and dream big, rather than allowing the Betos and Buttgiegs of the world to stagnate.
                                              
State Your Stances…
Both progressive and moderate Democrats have been searching for the answer to one question: will progressive or conservative stances lead Democratic candidates to victory? They can thank Ossoff and Warnock for the answer.
"Do you support the Green New Deal?"
"No."
"Do you support Medicare For All?"
"No."
"Do you support DC statehood?"
"Yes."
"Do you support defunding the police?"
"No."
"Do you support abolishing ICE?"
"No."
"Do you support expanding the Supreme Court?"
"No."
"Do you support ending the filibuster?"
"Maybe."
After Ossoff's "speed round" interview on Axios where he revealed that he didn't support certain progressive policies (such as Medicare for All and the Green New Deal), he was sucked into a heated debate between Democrats about whether embracing progressive ideals or promoting moderation was the way forward for the party. Later that month, Ossoff attracted even more attention when he formally accepted Senator Bernie Sanders's endorsement, an act seen as an embrace of progressive support. Predictably, the messages from the Democratic party as a whole were mixed: progressives thought that Ossoff's disdain for their chosen policies was a surefire sign of his impending loss, while comparatively moderate liberals predicted that his tacit alliance with Sanders would doom his campaign.
However, the very act of clarifying his aforementioned stances alone helped lead him to victory. Despite being too progressive for moderates and too moderate for progressives, Ossoff was still able to connect with enough voters in Georgia; it's possible that this was due to his willingness to share his political views, however controversial they may be. Arguably, his straightforwardness was one of the key differences between his failed House campaign in 2017 and his successful Senate run in 2021. Additionally, Warnock's opposition to defunding the police (albeit with a caveat that demanded accountability for officers) did not prove to be a handicap during his race; his uncompromising position on healthcare and jobs may have rendered his moderate stance on the police irrelevant. For far too long, Democrats have relied on well-meaning yet unremarkable candidates who fail to commit to any tangible platforms; rather than debating over progressivism and moderation, they should establish one core tenet for all of their up-and-coming politicians: State your stances, regardless of where they fall on the political spectrum.
These four lessons may not guarantee Democratic dominance immediately, but it's undeniable that relying on grassroots movements, pairing compatible candidates, "fixing" their failed nominees, and promoting opinionated politicians will certainly put them on the path to political success.