The Impact of COVID-19 on Ski Resorts in New York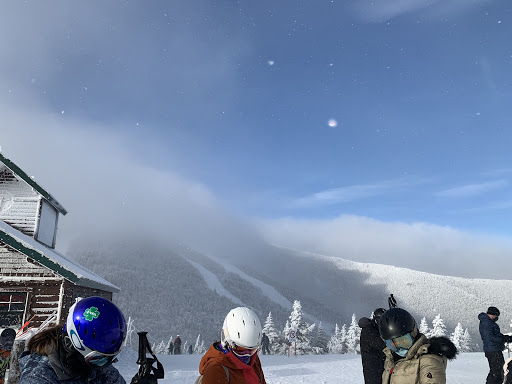 A staff member at West Mountain handed my dad and I a small wooden board with the number "12" printed on it. After asking us how many people we would be dining with, she gestured to our table in the center of the dining hall and said, "Okay, you guys have thirty minutes." Instead of searching through the dots of people and racing to the closest open cafeteria table, each visitor at West Mountain can now be found waiting in line for a table reservation. Although this is an unusual sight in comparison to the bustle of the mountain lunch rooms of 2019, this cafeteria system has become a part of the new norm for skiers during the COVID-19 pandemic.  
West Mountain, which is located in the Adirondack mountains in New York, has been using the numbered, wood-board method to limit the amount of dining time per visitor in their cafeteria. This process ensures that all guests have the opportunity and time to come inside and eat a socially distanced lunch. Greg, a skier who enjoyed his packaged pizza in the West Mountain cafeteria noted, "I think they are doing a heck of a job. Even serving the food, everything is boxed."
Whiteface Mountain, another ski resort in the Adirondacks, has been taking similar precautions to keep their guests safe in their cafeteria. Signs on the walls and tables read: "Cafeteria area tables have restrictions of 20 minutes. Keep our season safe. Don't be the reason we lose our season." The lunches are boxed and lunch tables are distanced over six feet apart. There are ropes that create two lanes: one for those who are leaving and one for those who are entering the cafeteria sitting area."The lodge is less crowded and [there are] fewer people to talk with… you can't have more of those face to face interactions with people" said Alex M., a skier who dined in the Whiteface Mountain cafeteria. 
Outside of the cafeteria doors, some skiers sport the classic blue surgical masks, and others use their neck warmers to cover their faces from the mountain winds. To ensure socially-distanced lift lines, there are signs placed every six feet that people must stand next to. They read, "Maintain a six-foot distance." To obey the indoor half capacity rule by New York State, West Mountain and Whiteface Mountain both require skiers to pre-order tickets online so they can limit the amount of tickets sold. When ordering ski-tickets online, Olivia, a skier at Whiteface Mountain, stated she could only find tickets "at least one week in advance." She claimed that when in-person tickets were available last year, "it was easier to just go to the mountain and get them, pick them up, and put them on."
Yara B., a recent skier at Whiteface Mountain noted that she, ".. think[s] it makes everything faster", referencing the half capacity rule, accompanied with shorter lunch lines and lift ticket lines. After mentioning the online ticket buying process can be tedious, Olivia also mentioned that, "There's definitely a lot less [people], but that means you can do more [ski] runs when you're going." 
Although the cafeteria scene and ticket buying process has been altered due to the pandemic, as visitors glide down on the slopes, normal ski etiquette remains. Before Covid-19 hit New York, skiers and snowboarders generally maintained six-feet to avoid hitting each other on the trails. "Everyone is still the same. When you're passing someone it's only a two-second interaction… when skiing, Covid doesn't change the interactions," added Olivia. As the New York State guidelines state, masks are not required when skiing outside: "Face coverings will be required at all NYS ski areas except when skiing or eating and drinking." However, Alex raised a concern surrounding the idea that some skiers don't feel the need to wear their mask outside. After waiting on lift lines, she noticed there was a lack of social distancing, and suggested there be "more enforcing [of] masks and social distancing."
To some, getting to ride down the mountain with wind blowing in their ears and adrenaline pumping, continues to bring them a form of joy and escapism from reality. As Spencer Montgomery, Co-Owner and Managing Member of West Mountain stated, "Sure, things will be a little different operationally this year, but our staff is here to provide an enjoyable and stress-free environment. People have already been through so much this year; skiing and riding is a chance to simply enjoy being outdoors with friends and family." In hopes to preserve this sense of joy for skiers in a safe manner, Whiteface and West Mountain continue to face the challenges of COVID-19, hand-in-hand with the rest of the world.