Movie Night
The Friends Academy Family Night marks the joyous commencement of Fall Fair and Homecoming. With free rides, food, and a bonfire, the night kicks-off a spectacle of FA sporting events and an overall sense of community for the year to come; however, for the senior class, this day is very stressful.
Traditionally, the senior class hosts a homecoming dance that raises money for their class gift, last day, and prom. However, with an increasingly low turnout from all grades, our class decided to take a new, creative approach to solve this problem: hosting a movie night.
Without knowing it at first, it is clear that an all-grade movie night was something that we needed as a school. This fun and memorable idea was a great addition to the start of Fall Fair. Through a series of brackets and voting, the school collectively decided on Ferris Bueller's Day-Off.
As movie night was fast-approaching, the senior class united to work out the logistics of the night. We ordered custom FA Movie Night blankets, candy, popcorn, hot chocolate, tickets, and even a red carpet. The biggest challenge was the large expense of the screen. The screen was definitely an investment, but our class was confident that we could pay it off through ticket sales.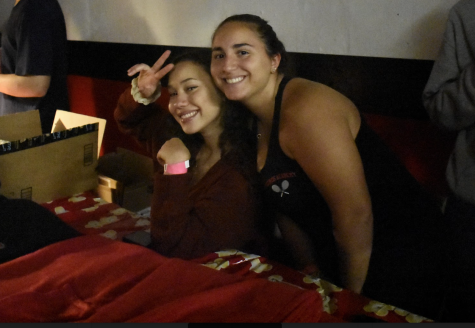 We were right. Even with the last minute location change, we not only broke even and paid off the screen, blankets, and food, we received ample funds to pay for our class gift, last day, and prom.
One of the many legacies the Class of 2019 will leave for future students is the collective joy and bonding of our community during Movie Night. Students from each grade were able to gather and form new connections between classmates and see all of the high school in a more intimate and relaxed environment. We hope that this tradition will be passed onto the rising seniors for years to come.
About the Writer
Margaux Blau, Copy Editor
Margaux's role is to ensure that articles are written successfully. She corrects any errors in the writings and works with writers to verify information...