Beach Clean-Up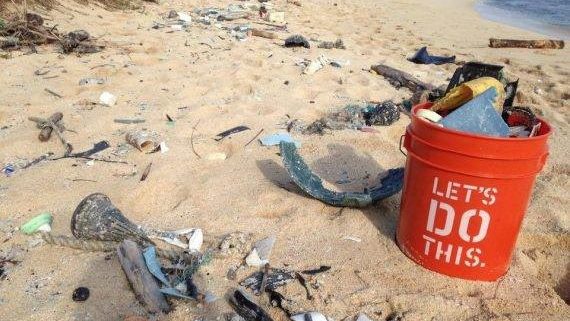 Last week the entire senior class took a day trip to Garvies Point where they learned all about pollution, the effects it has on the environment, and how to combat it. They even got to help clean up the beach. While cleaning and walking around the shoreline, the seniors learned a lot about the fascinating history of Garvies Point. 
Upon arrival, the seniors were given a lesson on pollution and the effect it has on nature. Each year, about 8 million tons of plastic is dumped into the world's oceans each year. Most of this is single use plastic. Along with single use plastics, the items used to make those plastics are also a large part of the pollution problem. These items are small plastic pellets called nurdles. Because these pellets are small, they are very difficult to find and clean when in the ocean. They also give a big problem to animals. Nurdles are small and closely resemble fish eggs which many animals eat. If an animal were to eat the plastic, they could very easily die. The students were then taught how to reduce the amount of plastic coming into the ocean. A few of these ways is to stop using single use plastics, and make sure to recycle items that can be recycled. After learning about different kinds of pollution and ways to prevent more, the students were brought down to the shoreline which was at low tide and began to clean up. 
While on the beach, they were able to learn about the history of Garvies Point and were able to help clean it. Throughout the duration on the beach, the seniors were able to pick up many bags worth of trash that people had dumped on the beach. This trash included plastic bags, glass and plastic bottles, balloons, and other plastic items. While cleaning, the seniors also learned about the history of the Garvies Point shoreline. On the beach, one can find many different kinds of plant fossils. There is also a massive amount of clay scattered across the shoreline that has been there since the Cretaceous period millions of years ago. There are also large boulders that were deposited by glaciers tens of thousands of years ago. 
Overall, the senior class trip to Garvies Point definitely gave the students a new perspective on pollution and just how damaging it is to animals and land that has been there for millions of years.
Leave a Comment