NFL East Division
The NFL this year has been odd to say the least. One of the biggest surprises has been the NFC East division. After being by far the worst division two years ago, it is now the best. Through week 16, the division has amassed a 650% win percentage. This impressive feat has been in part due to the Philadelphia Eagles league-best 13-2 record. Their only losses were to fellow NFC East members the Washington Commanders and the Dallas Cowboys, further demonstrating the strength of the division this year. Let's take a closer look at the path each team has taken this season. 
Dallas Cowboys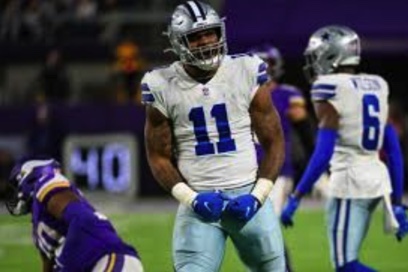 Photo by Stephen Maturen/Getty Images
During the 2010's, Dallas had reached unimaginable mediocrity under the QB-coach duo Tony Romo and Jason Garrett. In 2016, when the Cowboys drafted HB Ezekiel Elliott and QB Dak Prescott, there seemed to be hope as the following season the team achieved a 13-3 record, winning the best record in the NFC east. This hope would soon become lost as they had achieved minimal playoff success throughout the next 4 years. However in 2021, young stars such as CeeDee Lamb, 2nd year wide receiver out of Oklahoma, and rookie phenom Linebacker Micah Parsons of Penn State led Dallas to a 13-4 record and yet another NFC East Victory. History ended up repeating itself as in their first playoff game, the Dallas Cowboys would lose at home in a heartbreaker. As of week 11 of the 2022 season, the Dallas Cowboys sit at 7-3 placing them 2nd in the division. In the season opener, Dallas was hit with bad news as Prescott was sidelined for the next 5 games with a hand injury. This was Prescott's 3rd injury in 3 years causing worry throughout the franchise. As a result of the QB's injury, backup Cooper Rush was once again thrust into the spotlight just as he was only one year prior. Rush proceeded to get the job done, going 4-1 in Prescott's absence, only falling to the Philadelphia Eagles. With Prescott now back, the Dallas Cowboys look to make a deep playoff run and rebuild their mid 90's dynasty. 
Philadelphia Eagles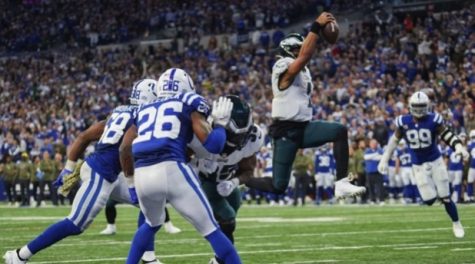 ARMOND FEFFER/USA TODAY SPORTS
Prior to 2017, the Philadelphia Eagles of the 2010s were not much to write home about. Bouncing around with. It is important to note that during this season, an ACL injury to Carson Wentz would sideline him for the remainder of the year, allowing for Nick Foles to return and steal the glory of the championship and win super bowl MVP. This injury caused Wentz to also miss the first two games of the following 2018 season. This would not be the last of Wentz's injury woes as later in the season, his spine would give out on him, causing again a premature ending to his season and Foles' insertion once again. Foles would lead Philadelphia to a late playoff slot and a wild card victory. After 2 injuries in 2 years, questions were raised on if Wentz should remain at the helm or to give Foles the keys to the franchise. Ultimately, Philadelphia chose to stick with Wentz, paying him handsomely. In 2019, Wentz would lead Philadelphia to its 3rd straight postseason appearance, and 2nd division championship in 3 years. Wentz looked to finally make his first playoff appearance, but early in the game he would go down with a concussion, bringing an end to his season. After three straight years of season ending injuries, the Philadelphia front office decided it was time for a change. The 2020 NFL draft saw questionable decisions from Philadelphia. The Eagles missed out on a superstar wide receiver for one who would be off of the team in 2 years. But what was even more outrageous at the time was the second round selection of quarterback Jalen Hurts. Fans were perplexed by the choices and those frustrations would only build in the ensuing season. Wentz remained at the helm for the Eagles, however after an absolutely catastrophic start to the year, he was benched for Hurts in a week 13 duel against the Green Bay Packers. This would be his last game for the Philadelphia Eagles. In Jalen Hurts' 4 ½ games he would show flashes of potential but only ever won a single game. Going into 2021, expectations were very low yet a 9-8 wild card birth shattered those expectations. Offseason additions and a light schedule in 2022 set the stage for new life in Philadelphia. So far, the team has played mostly up to par with the expectations placed on them, but not as much as their own expectations. They have shown a complete roster, yet often find themselves relying on one side of the ball too often. Now at 9-1, atop the NFL, after an extremely close match-against the Colts, The Eagles must find a way to get back in their groove and play like a complete team in order for them to make a deep playoff run. 
 New York Giants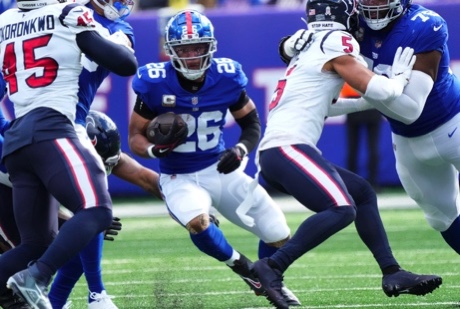 USA Today
In the past 10 years, the New York Giants have been atrocious with the exception of the 2016 season. Even that season had its major issues with its star players hanging around on a yacht the day before their first playoff game in which they inevitably got pummeled. Since Head Coach Tom Coughlin left, the Giants have struggled to find a competent coach. However, it appears they have made a breakthrough this season. Former Buffalo Bills Offensive Coordinator Brian Daboll took on the role this season and has exceeded expectations. He has led the low talented team to an impressive 8-6-1 record so far. They are one win away from clinching playoffs, which would be incredible due to it being their first year rebuild. The main reason the Giants have had such a spark this year is their entire coaching staff. Besides Brian Daboll, they also have brand new Offensive and Defensive Coordinators. Another key part of their success has been their quarterback Daniel Jones. Even though the Giants have probably the worst receiving corps in the league, he has played a great season. Despite being known as the "turnover machine", Jones has only had an impressive 5 turnovers this season in 15 games. Furthermore, former 2nd overall pick superstar running back Saquon Barkley has returned to his previous form this season and has been the backbone of their offense. Both Saquon and breakout star Dexter Lawerence, their play wrecker on defense, made the pro bowl. As of writing this, the Giants looked to defeat a struggling Colts team to clinch their first playoff berth in over 5 years. 
Washington Commanders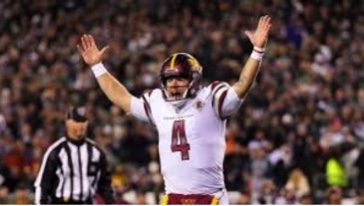 Mitchell Leff/Getty Images
This past decade, the Washington Commanders have been very inconsistent with three first place finishes, four third place finishes, and three fourth place finishes. Their actual records have been erratic too, ranging from an impressive 10 wins to a mere 3 wins the following year. This year, The Commanders are the one team that has started slow in the NFC East. Coinciding with their name change, the Commanders acquired quarterback Carson Wentz from the Indianapolis Colts. Despite starting with a 1-4 record, they gained some momentum and currently sit at 7-7-1. This is mainly thanks to their very strong defense that is filled with talent. Their offense is a bit lackluster, from their poor quarterback play to Wentz and Taylor Henicke, who took over after Wentz got hurt. The Commanders are currently the last seed in the playoffs and need to win their last two games to ensure making the playoffs. Star wide receiver Terry Mclaurin and defensive tackle Jonathan Allen made the pro bowl. On Special Teams, punter Tress Way and Gunner Jeremy Reaves made it as well. It will be interesting to see how they cap off their year, having concluded with the signing of former 2nd overall pick in 2020 Defensive End Chase Young, who will bolster their great defense even more.
Leave a Comment