Freshmen Prospects – Fall Sports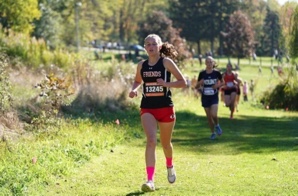 Abby Frazer
Abby is currently in her second year of running for the Friends Academy cross country team and has proven herself to be a star runner not only on her team, but also within her entire freshman class. Through consistently placing in the #2 spot on the team during meets (the top 5 finishers are the ones counted for the team score), Abby has been a crucial asset to the team's success. Even beyond the school, she has gained recognition at the state level, being ranked #8 in her class. Although she is a freshman competing and training with older runners, she feels at home with the cross country community at FA now that this is her second season with the team. 
Abby's goal for this season is to finish a race in under 20 minutes. Achieving this goal will also help with her aims that lie beyond this season: "It would put me at a great spot confidence wise. Cross country is half physical and half mental. If I can clear my head space, I can start running really well". Finding this confidence is one of Abby's main long term goals. She hopes to run in the state championship this year, having narrowly missed out in the qualifiers last season. Finally, Abby hopes that cross country can gain more recognition within the FA community. The team has had some outstanding performances this season and has found success as a whole. She feels cross country gets wrongfully overlooked and wishes more people took the time to appreciate the sport and the team.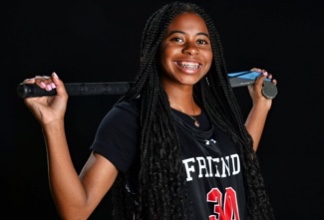 Cynthia Eustache 
Cynthia is one of the starting freshmen on the Friends Academy field hockey team and has found great success as an individual player and with the team. After the first game of the season, Cynthia was the first to receive the "Golden Ball", which is awarded to the player who went the extra mile and extra step as a teammate. Even as a freshman, Cynthia has progressed towards mastery of her sport and her team has won the majority of their games this season, with Cythia starting at midfield. At first, Cynthia was worried about the amount of playing time she would receive as a freshman, even though this was her second season on the team. However, she remained poised and performed well on the field, earning her starting spot on the team. Now, she feels confident in herself to perform, learning to overcome her pre-game nerves once the game begins. Cynthia does not feel out of place or pressured as a freshman on the team, feeling close and comfortable with her teammates.
Cynthia's goal for future seasons is to consistently play all four quarters of the game. She wants to steadily improve and increase her impact on the field next season during her sophomore year. She expects to see great improvement in her overall game, as she is looking to join a club team and practice outside of the school season. The future of Friends Academy field hockey is clearly in good hands as Cynthia says, "I feel committed to the sport and ready to take the next steps to get better."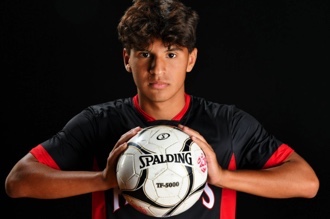 Dylan Leon
Dylan is a phenom on the soccer field with a talented and exciting playstyle. This year is his second season playing for the Friends Academy team and while he is the only starting freshman on varsity, Dylan has clearly proven that he will go above and beyond to help his team win. After being named "All Conference" in his 8th grade year, Dylan has found even more success this season. Scoring the game winning goal against JFK Bellmore and even dribbling past 4 defenders to get the game winning assist that secured FA a spot in the playoff bracket. Since this is his second season, Dylan feels right at home on the team, developing very close relationships with his teammates. He feels no pressure at all about underperforming or proving his skills to anyone. "I know what I'm capable of and I set high expectations for myself". 
Dylan is always looking to improve himself and has set both short and long term goals for himself and his team. For this season, he wants to make a good playoff run but the ultimate goal in his upcoming years at FA is to make it to the state championships. Past that, he has high hopes to play at the division one college level and even professionally. It is exciting to see what the future will hold for Dylan's soccer. Still, in the end, it is all about enjoying himself for Dylan. He says, "For now, I'm just taking it day by day with what I have".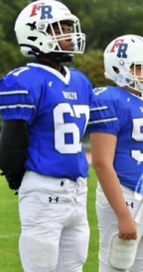 Jared Williams
Jared, in his first football season during his first year at Friends Academy, has found quick and impressive success on the field. During his first varsity game against Elmont, Jared showcased his skills as the starting defensive end and put up 3 tackles, one of them being a long distance chase down. He is also the first sub in for the offensive line. As a freshman on the varsity team, he feels accepted and right at home with the team, enjoying the camaraderie among players as well as the helpful upperclassmen who he can look up to. Jared feels minimal pressure and does not let his nerves get in the way of his performance. He feels he deserves his spot and is willing to work hard to show it: being a freshman is no excuse. He says, "When the helmets are on, we're all just football players".
Jared feels no need to prove his game to anyone besides himself. He sets goals each game to push himself harder, like getting two tackles and a sac. Long term, Jared strives to become a captain, or someone that others on the team can look up to. It will be exciting to track Jared's progress as the years go on. However, considering he is a tri-sport athlete with basketball and track, he plans to take things year by year with football. 
Sofia Schwarz
Sofia has quickly made a name for herself as one of the top players on the Friends Academy girls varsity tennis team. Even after missing the first half of the season due to a knee injury, Sofia came in strong for her first season on the team. Most notably going undefeated in doubles with her partner, Eva Sun, and even being named "All County"- an impressive distinction for athletes, not only among freshmen, but for any grade. Sophia's success also stems from her mental toughness as she shows confidence in her skills and never lets any pressure impact her performance on the court. 
For Sofia, being a part of a team for tennis is a different environment than what she is used to. However, everyone was extraordinarily welcoming and she was already familiar with a few members of the team, so adjusting came easily. She has developed strong relationships with her teammates and enjoys tennis as more than just an individual sport. It is also great to see how the team has been performing exceptionally well this season, with Sofia's mind set on winning counties and the playoffs. Long term, she hopes to play in the number one singles spot and lead the team as a captain. Considering her performance as a freshman, this goal is definitely in reach.  
Leave a Comment