YSOP-The Gift That Keeps on Giving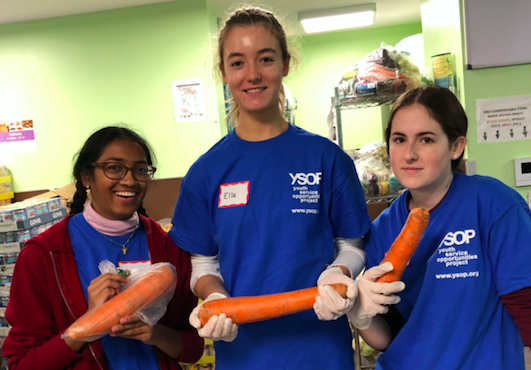 'Tis the season of giving and receiving. What better way to celebrate the holidays than to give back to those who need it? The tenth grade YSOP trip offers both a fun and impactful journey on the true meanings of giving and receiving.
I went on my YSOP trip back in November, and the experiences still impact me today. I couldn't say I was excited when I was on the bus that Thursday. It was a very long bus ride in the snow, but when we finally got there we got straight to work.
I was in charge of making mashed potatoes, something that I've neither made nor enjoyed before, but after that I can safely say that I still don't like mashed potatoes, but they were pretty fun to make.
The women we ate with on the first night were all very friendly and funny. We got to play games with them, they told us stories, and we had all in all a good time.
Friday was by far my favorite part of the trip. I was put in the group that traveled to a food pantry in the Bronx, and we were going to be working there from 8:30 to 2:30, and there was a lot of work to be done.
It was the weekend before Thanksgiving, so the pantry was very crowded. I alternated from taking orders to packing bags of food. The other school that was supposed to be there canceled because of the weather, so they needed us more than ever.
The hours we spent in the pantry, working our hair off, are some of the most impactful moments I've ever experienced. From the lady using a field hockey stick as a cane, to the one who helped me with my Spanish-speaking skills, I learned so much from the six hours I was there.
A lot of the people there spoke Spanish, and at first I was nervous to try and speak to them. I was not that comfortable with my one year of Spanish skills. But, as the day went on, my Spanish got more advanced and I became more confident just by talking with them. In a way, as I was helping them, they were helping me.
At the end of the shift, the man in charge said we almost doubled the amount of work they usually get done. I don't remember the exact number, but I believe we fed over 500 people from that day alone.
I actually had a lot of fun at the food pantry. They played music in the back room, so I got to bounce along while I packed the bags. Everybody there was so nice and grateful, and it was eye-opening to see how an act of kindness can brighten everyone's day.
In the end, I would say to future students awaiting their YSOP trip not to worry. The experiences were both impactful and enjoyable, and it really opens your eyes to the gift of kindness. It's definitely worth the three and a half hour bus ride.
View Comments (1)